Congratulations to Robin D'Hondt (Belgium), Winner of the European Championship in 1:8 IC track at MK Eskil.
Toni Gruber (Germany) took the second place and Daniele Ielasi (Italy) finnished third.

Pictures by Stefan Eriksson, Göran Mårtensson and Erik Persson is available in the photo gallery.
The race, covered by RC Racing TV can be watched at youtube from the qualifying at thursday to the finals at saturday.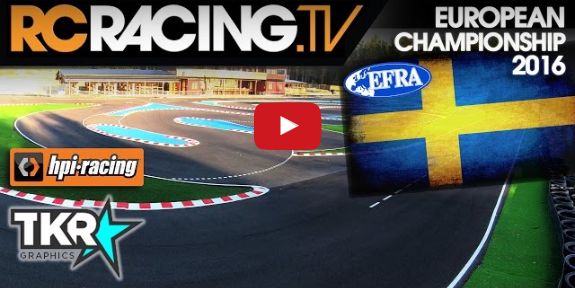 Thursday – Timed practise and qualify
Friday – Qualify and super pole
Saturday – Finals
Preliminary entry list
Invitation/information regarding the European Championship in 1:8 IC Track in Eskilstuna 11-16 of July 2016
Extra Newsletter
Newsletter 3
Newsletter 2
Newsletter 1
Facilities
The on-road track
Timekeeping
Eskilstuna motorsport arena
Airports
Hotels
Camping and cabins
Hostels & BnB
Rental cars
Tourist information
Contact
Javier Garcias (EFRA) promotion video for the European championship in 1:8 IC Track.

Stefan Erikssons video from the warm up race in 2015.